LE MONSTRÉ from CHARACTERS
I had the pleasure of creating an interactive garment called Le Monstré for Katherine Helen Fisher's performance of CHARACTERS and the Ferst Center for the Arts at Georgia Tech. The work was funded by an IPaT / GVU engagement grant and developed from a collaboration between the artist, Safety Third Productions, the Wearable Computing Center, and the Office of the Arts.
C Zeagler, S Gilliland, K Fisher, S Boyle, L Levy. Adjunct Proceedings of the 2017 International Symposium on Wearable Computing, Maui HI, ACM 2017
AWARDED Best Design Exhibition Paper Aesthetic Category
CHARACTERS from Safety Third Productions on Vimeo.
CHARACTERS is a new 1.3 hour long new media dance work choreographed and performed by Katherine Helen Fisher, and directed by Katherine Helen Fisher and Shimmy Boyle, in collaboration with the Georgia Institute of Technology's Office of the Arts and Wearable Computing Center. The premiere presentation of the work takes place March 5th, 2017 at the Ferst Center for the Arts at Georgia Tech. A continuation of Fisher's deep interest in interdisciplinary collaboration and its capacity to reinvigorate dance, the mixed media piece explores the connection between identity and technology, and the human need for ritual through dance participation and connectivity visual media. Fisher brings a feminist consciousness to the engineering of the emerging technologies , seeking a transfer of virtuosity to new forms via meta-narratives. The audience is asked to turn ON their phones and turn UP the volume of ringtones, take a multitude of photos and make as many social media posts as possible as well as to participate in interactive based activations throughout the show.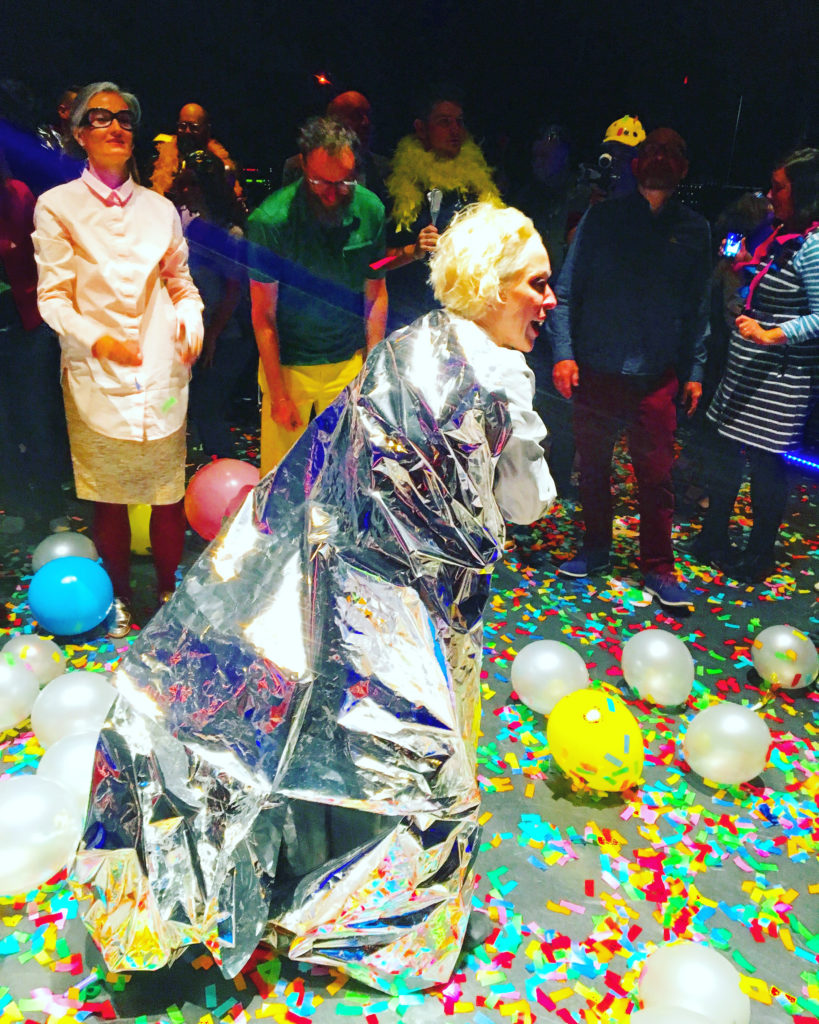 The genesis of much of the technology interaction in the show came from a series of #CreativeCollision collaborative workshops between Georgia Tech engineers, computer scientist, HCI experts, Atlanta based theater professionals, artists, and Safety Third Productions. These workshops served as a platform for technologists to show off their creations to artists who are looking for technology to employ in their work. Although art is an effective way to showcase cutting-edge and advanced technologies, barriers often exist in resources, access, communication and collaboration. The goal of the workshops is to break down those barriers and provide a blank slate for artists and technologists to create together. The workshops also offer artists the opportunity to view technology prototypes and brainstorm ways to incorporate them in their work. The goal was for each discipline to come to the table on equal terms and be able to create together.
Both artists and technologists are very creative," said Laura Levy, Creative Collisions principal investigator and Interactive Media Technology Center research scientist. "They describe their processes very differently as you can imagine, but there's also a lot of commonalities, particularly iterative design. So trying something out, seeing if it works, then improving on it is something that is shared between both of these groups."
"We're bringing together researchers and artists who may be performing here at the Ferst Center to build something new," said Lane Conville-Canney, special events and grants coordinator, Georgia Tech Office of the Arts. "We're not finishing each other's project but working together to find one idea."
A great example of this creative interconnection that developed in the workshops is when computer engineer Scott Gilliland (who is also a video game enthusiast) told Katherine Helen Fisher (the choreographer and dancer) about a game called The Stanley Parable where the narration is third person past tense. Katherine now narrates her show through a vocoder in past tense, which we have found to be quite intriguing and effective in calming the audience's fears about participation.
When asked "Why work on performance led research in the wild" Benford et. al give three reasons. First among them is that Artists' uses of emerging technologies are often highly innovative and unusual, stretching the technology in unforeseen ways, highlighting new design values and approaches that are sometimes contrary to received wisdom in HCI, and opening up new areas of application [1]. We certainly found this to be true. While the entire work is centered around the interactive nature of technology there are pieces within the show we would like to highlight for your consideration, which also demonstrate this idea of performance led research. Throughout the entire show a dialog builds between the performers and the audience. This happens through online programs, sms texts, Facebook connection, vocoder narration, written words, and even phone calls.  In a way each instantiation of CHARACTERS is not only a collaboration between technologists and artists, but also with the viewing audience.
LE MONSTRE is a responsive performance garment, changing the sound and projection of the performance space through audience interaction. As the audience is invited to investigate the garment through touch and pull, capacitive and resistive strain sensors relay the interaction as wifi MIDI signals. The garment was designed through a close partnership between Safety Third Productions, Katherine Helen Fisher, Shimmy Boyle, Scott Gilliland, and Clint Zeagler the program manager for the Georgia Tech Wearable Computing Center.  While capacitive touch technology is not necessarily innovative, the use within a performance as a means to create an experiential connection with the audience through touch is unique. In this true collaboration neither the artist nor the technologist could have created this work on their own.
Le Monstré – CHARACTERS from Safety Third Productions on Vimeo.
The music for the Le Monstré performance was composed by Rhó and is an adaptation of a song called ROOMS from his upcoming album NEON DESERT. Rhó and Zeagler have worked together before on a wearable instrument called the Hood, and his musical collaboration with Zeagler and Fisher has added greatly to the overall experience of the piece.
"The garment Katherine and I have worked on together will aid in audience interaction," said Zeagler. "Specifically, the audience will physically touch it during her performance, creating an engaging experience. The garment is called Le Monstre and it's a jumping, frolicking, happy thing that lights up, and helps control the stage experience through touch."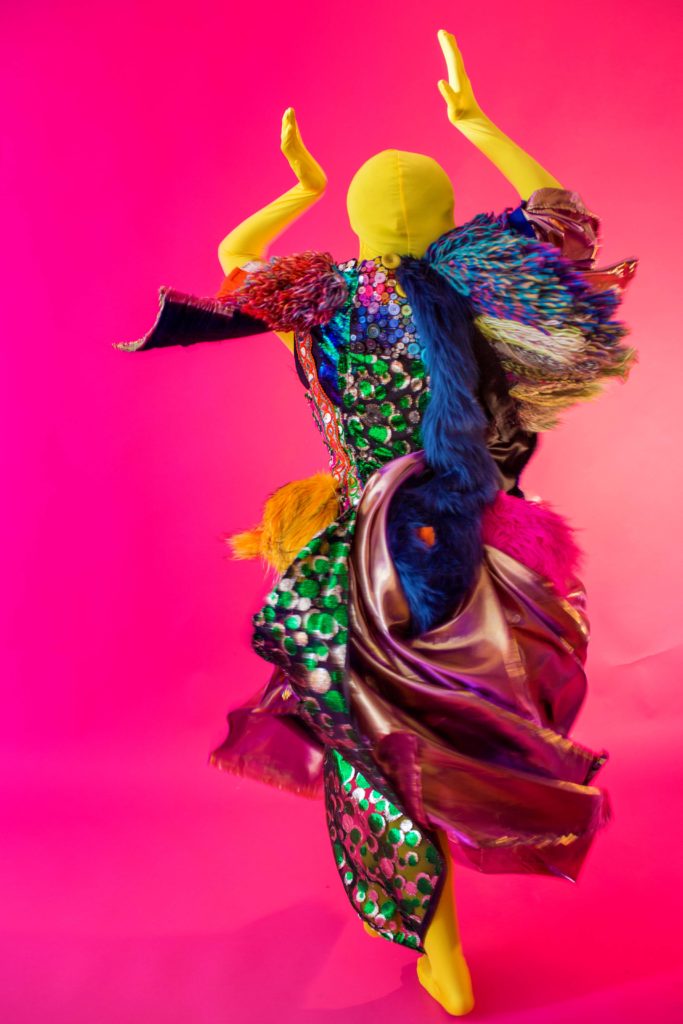 Outside of developing the physical garment, Zeagler also worked with Safety Third Productions (who are experts in media generation) to create the video content for the staging of the piece. In this way we see technologists aiding in creative art direction, thus offering up ideas for content, in a way which might be new and rewarding. This open and encouraged exchange in participating in the construction of the staging of the piece kept the whole team engaged and motivated throughout the process leading up to the performance.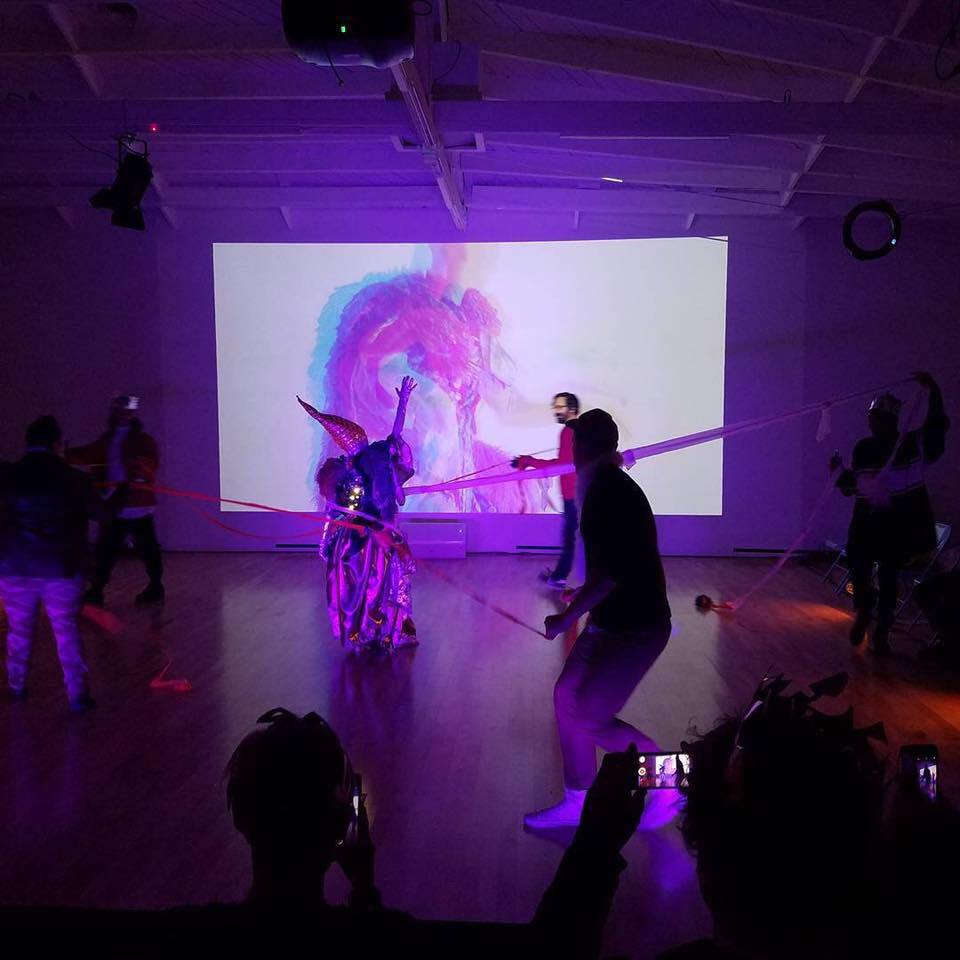 FB (which stands for Facebook) is a unique participatory experience where Katherine dances with a cell phone live-streaming from Facebook Live, and in turn asks the audience to view the FB Live performance from their smart phones.  As the piece progresses the tablet is turned to the audience, transforming them into the subject of the performance as viewed through FB.  A multi-dimensionality occurs through projecting several live feeds from varying vantage points, as the audience is invited to observe the dance from the screen on their phones, through a larger than life feed on the projection screen, or through the live performance itself.  Some streaming images of the live action are incredibly intimate and thereby evoke fourth wave feminist intersectionality seeking to debunk stereotypes of femininity.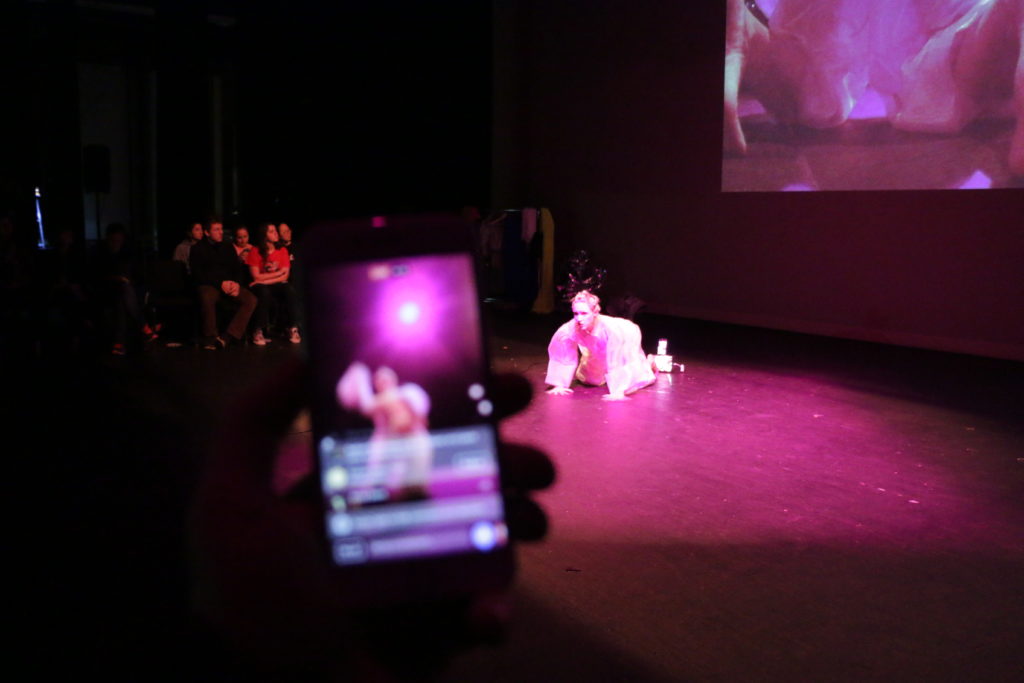 RENDER is dance performed in tandem with an avatar displaying motion capture footage. Katherine worked with Josh Planz with support from SVA to capture and produce the rendered dance video. Katherine dances in front of her Avatar and in unison.
The films featured throughout performance take inspiration from femininity, excess, self-mediation and distortion.  They seek to create an atmosphere of vulnerability, acceptance and  to scintillatingly defy conventional gender norms through a surrealistic, web-based lens.
[1] Benford, S., Greenhalgh, C., Crabtree, A., Flintham, M., Walker, B., Marshall, J., Koleva, B., Egglestone, S.R., Giannachi, G., Adams, M., Tandavanitj, N. and Farr, J.R. 2013. Performance-Led Research in the Wild. ACM Transactions on Computer-Human Interaction. 20, 3 (2013), 14:1-14:22.