INTERVIEW: MS. MOODY-MIDTOWN
Laura Moody is the Director of Member Engagement & Partnerships for the Midtown Alliance in Atlanta, GA. She has a background in fundraising for nonprofits, event design & production, public relations and community affairs. Laura is an avid supporter of the arts in Atlanta and serves on the Advisory Board of The Creatives Project, an organization that helps places artists in subsidized studio space and housing in exchange for community service in under-served neighborhoods.

CZ Full disclosure you and I have been friends for a number of years, how did we meet again?
LM We met about 6 years ago when I invited you to be a part of an exhibition on customization in design.  At the time, I was the Director of Communications & Exhibitions at MODA (Museum of Design Atlanta).  As soon as we met, I knew we were kindred spirits because we have no problems sharing our opinions, but we always do it with love.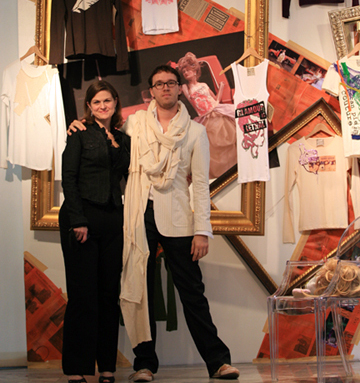 CZ  I know you have worked with a number of arts organizations around town, what excites you about your current job at Midtown Alliance on the outside it seems so different than working for a nonprofit.
LM Well, Midtown Alliance is actually a non profit as well.  Fundamentally, I have always been a communicator.  As long as I am truly excited by the mission and work that an organization or a business is doing, then I can be a vocal ambassador.  With Midtown Alliance, it's almost impossible not to get carried away by the sheer impact that the organization's programs and projects have on our city. I'm a believer in the principles of new urbanism and Midtown is our city's best example of a neighborhood with truly walkable corridors, restaurants, retail and green space all in a dense, diverse area.
CZ  So Midtown has a new fancy logo, what the story behind that? Its so pretty and colorful, who designed it?
LM Midtown Alliance has a number of public programs including: Midtown Blue (Public Safety), Midtown EcoDistricct, and Midtown Transportation (Clean Commute Options).  Each of these programs had disparate logos and visual identity systems that didn't necessarily speak back to the larger overall Midtown brand.  We also had 2 separate websites that were difficult to update and weren't mobile friendly.  So, it was time to makeover our entire visual identity system and to create an accessible, lively web presence that would speak to the energy and diversity of Midtown itself.
Son & Sons, www.sonandsons.com an Atlanta-based design firm located right on Peachtree Street designed the new visual identity system.  They were amazing to work with. Through a series of interviews, man-on-the-street meetings and brainstorming sessions, they really helped us discover the message that we wanted to convey, that Midtown is at the Heart of everything.  Hence, the colorful hearts that now populate much of the brand.
CZ  I've been to the new website and it talks a lot about Innovation, why did Midtown Alliance decide to focus so heavily on innovation, and what kinds of projects are going on that I should be excited about?
LM Midtown Alliance created a Blueprint for how the community of Midtown should grow–mostly in terms of new development, establishing new requirements for street level retail and restaurants and creating a plan for urban design elements like wider sidewalks and more tree-lined streets. That Blueprint has largely been realized in the tremendous amount of planned growth that has happened over the last decade.
With the Blueprint firmly in place, it was time to evaluate where Midtown Alliance could next influence and shape the district.  Innovation Hubs have been a popular topic of discussion for City Improvement Districts all over the world.  However, many cities are trying to figure out how to build the infrastructure needed to support a truly innovative creative class.  We realized that Midtown already has they key ingredients for an innovative community: a world-class research institution in GA Tech, a walkable neighborhood with ample public transit options for Gen Y talent who choose not to have a car, incubators and resources for start-ups and entrepreneurs, and a large community of established businesses to provide support to it all.
So, we believe that Midtown can become the Innovation Hub of the South.
CZ  Is there anyplace I can go to see some these success stories?
LM Yes, on April 17th Georgia Tech will be offering public tours of 50+ innovative and exciting research projects at a showcase that begins at 2pm.  There's also a really cool collaborative work space called Hypepotamus in the bottom of the Biltmore that houses a fantastic cross-section of start-up activity.


CZ.  How can I get involved in Midtown Alliance?  How do you become a member?
LM It's pretty simple.  If you live or work in Midtown and your residence or employer is a member, then you're already member! Ask your HOA or HR department.  If not, then visit www.MidtownATL.com or contact Join@MidtownATL.com for more info.
Laura Moody
Director, Member Engagement and Partnerships
Midtown Alliance
999 Peachtree Street, Suite 730
Atlanta, GA 30309
Office 404-809-2112
MidtownATL.com